Welcome to the Hau Hiwi (Windy Ridge) Red Devon Stud
One started quite by accident in the year 2000!
The purchase of a small run down lifestyle block necessitated purchasing some adult cattle to eat or tread in large clumps of unpalatable grass and the cattle that were advertised for sale in the local paper were purchased and they just happened to be Red Devon.
The land was not suitable to run young stock initially as it needed large inputs of lime, fertiliser and trace elements as demonstrated by the behaviour of the cattle in some areas of this farm – when let into a certain paddock on this farm they ran across to the next gate and stood by this and bellowed wanting to be moved straight away! This farm continues to be run along biological principles using the Albrecht soil cation balancing method.
The Red Devon cattle breed have the genetics to perform on a totally grass based system – the only other inputs in our system being a few vaccinations as youngsters, trace elements and free choice minerals like salt. In our system the Devon cattle generally cope without chemical inputs like worm drenches, pour-on treatments for lice etc. This small herd of Devon's which has totalled up to 29 head in some years is predominantly used as an integrated parasitic worm management tool for reducing the parasitic load for the young dairy heifer replacement stock also run on the block. There are also a handful of goats, free range turkeys, peacocks and also a few pheasants and Kaka (the native parrot).
CONTACT DETAILS:
Greg and Louise McConnell
Email: louisecoats2@gmail.com
Phone: +64 (0)7 867 7573 or better still on
Mobile: +64 (0)27 237 9221
Location: 294 North Rd, Mangatarata
RD 6, Thames 3576, New Zealand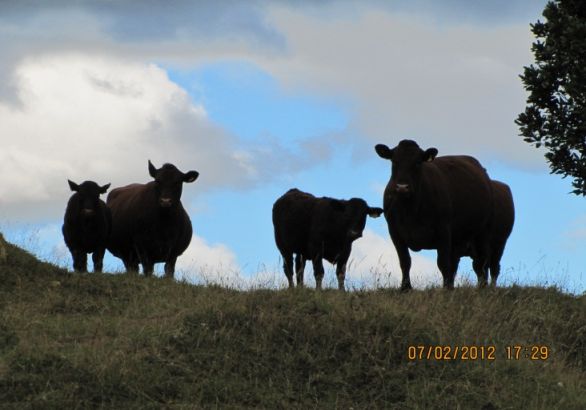 The aim for our block is to continue to follow a biological program and allow regeneration of native bush, herbs and grasses and to protect the water ways by fencing off the respective areas and to help the native wildlife with the sheltering of waterways and planting of tree and native flax lanes. The stud started with a few surplus cows from the Woodlands stud and cows from the dispersal of the Taylor stud- both from the Waihi area.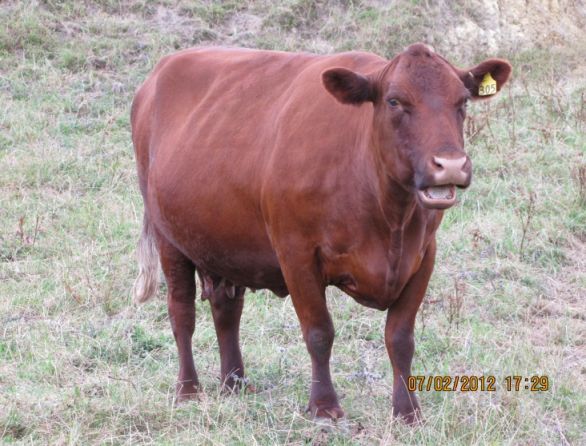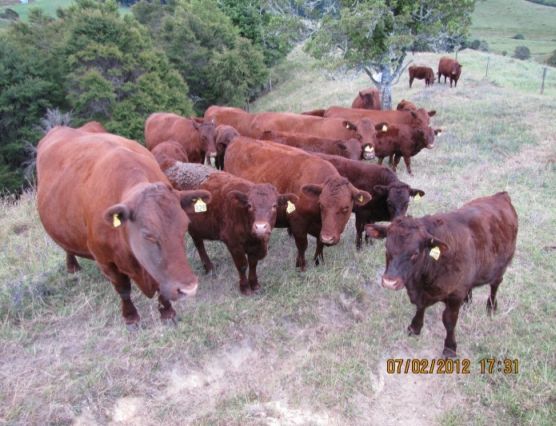 A bull, Rotokawa 861, was purchased in 2000 from the Rotokawa stud at Wanganui and he was used for two years and he was then swapped for Rotokawa 02-54. The cow adjacent was born in 1999 and is still in the herd and is an A2A2 cow. The cow below was born in 2001 and was also A2A2. We have semen for sale form Hau Hiwi 09-905 who is also A2A2 and have yearling A2A2 bulls for sale each year.
The aim for the Devon stud is to change the genetic base to entirely A2A2, in line with the actions of other breeders around the world. We have been on this pathway with our dairy herd from the year 2000 and see no reason not to do this with the Devon breed. There is also Australian research that indicates an association of meat tenderness with the A2 genotype so by breeding in this direction other benefits may come along with the ride as well.
We enjoy working with this breed of cattle as they are a pleasure to work with due to their quiet nature and have we found them to have excellent mothers with strong maternal instincts.
We are an hour's drive from Auckland and Hamilton airports and we welcome inspection and will be keen to procure other grass based A2A2 genetic lines. One of the original A2A2 cows on the left and a cow and her calf in one of the drought years.